This is the second part of a two-part post on the latest Key Stage 4 data, published earlier today. You can read the first part here.
Today the government has published the latest data on secondary school performance, along with other data on KS4 performance, including breakdowns of performance by pupil characteristics. In this post, we'll look at what we can learn from this data at the national level.
The disadvantage gap has widened again, especially for girls
The DfE's own figures show that the KS4 disadvantage gap index has widened again this year, and is now at its highest level since 2012.
A look at average P8 scores by gender and disadvantage suggests that girls have been particularly affected.

The average score for disadvantaged boys has fallen by just 0.02, from -0.7 to -0.72. While the score for disadvantaged girls has fallen by 0.18, from -0.19 to -0.37.
But girls' Progress 8 scores remain far higher than boys' on average.
But we should sound a note of caution when comparing to previous years. Recent changes to free school meals eligibility mean that the group claiming free school meals isn't directly comparable across years.
As a result (at least in part), the percentage of pupils nationally classified as disadvantaged this year (26.3%) was lower than in 2019 (26.5%). This seems rather surprising given the pandemic. Perhaps it just shows how stringent the eligibility criteria for free school meals are nowadays.
Non-GCSE subjects seem to be much less popular than GCSEs
This year's Key Stage 4 statistics show the relative popularity of GCSE and non-GCSE subjects in state schools in England.
We're used to seeing data on numbers of entrants in different GCSE subjects when JCQ publish national data on results day. But data on non-GCSE subjects, such as BTEC and OCR national certificates, is harder to come by.
The 20 most popular GCSE subjects in mainstream schools this year are shown below. EBacc subjects reigned supreme – history was the most popular non-core subject (267k entries), with geography close behind (261k). The only non-EBacc subject in the top 10 was religious studies (207k).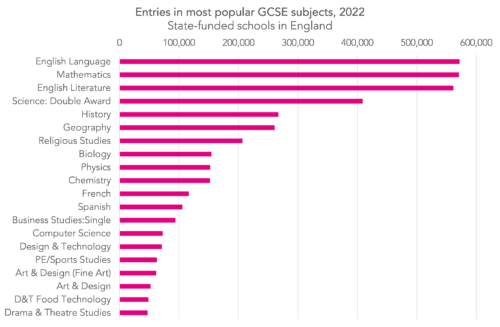 There were many fewer entries to non-GCSE subjects across the board. The most popular non-GCSE subject was OCR computer appreciation / introduction (42k), which had fewer entries than the twentieth most popular GCSE – drama and theatre studies (47k).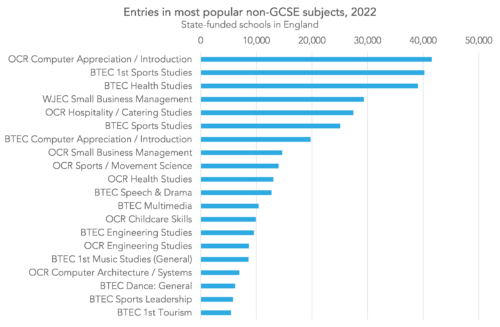 EBacc entries remain low
The government may have bigger things to worry about at the moment, but their ambition to see 75% of pupils taking the EBacc by 2022 has not been realised. Just 38.7% were entered for the EBacc this summer, the same figure as last year.
Regional differences haven't changed much
We had feared that regional differences had widened, as we've shown that Year 11 pupils in some regions – the North East, North West and Yorkshire – missed more school during the pandemic than those in others.
But average P8 scores at the regional level have changed very little since 2019, as shown below.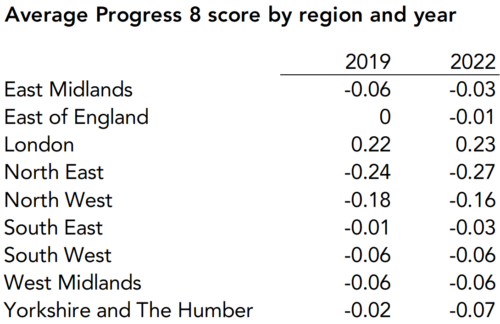 Existing differences between regions remain, but do not appear to have widened during the course of the pandemic.
Read the first post in this series, which looks at the picture at school level, here.