Ofsted has announced that four-fifths of previously outstanding state schools inspected in 2021/22 lost their outstanding rating.
We wrote back in January that inspection had become tougher for primary schools.
At that time, only 15 previously outstanding secondary schools had been inspected. By the end of the year, this figure had increased to 104 according to Ofsted management information data [XLSX].
So how do things look for them?
Progress 8 and inspection outcomes
Of the 104, 26 (25%) remained outstanding. 57 (55%) were good, 14 (13%) required improvement and 7 (7%) were inadequate.
All of the inspections would have taken place without inspection teams having access to recent attainment data due to the cancellation of exams in 2020 and 2021.
However, since then provisional attainment data has been published for 2022. So how do Progress 8 scores for previously outstanding schools differ based on their current inspection outcome?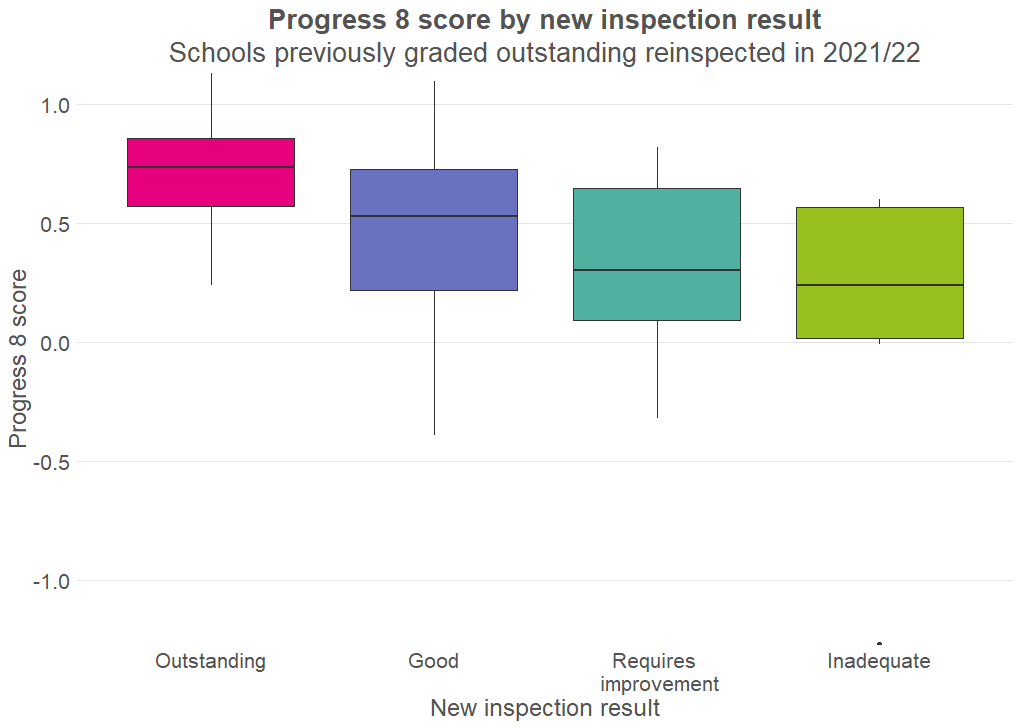 This shows a fairly clear pattern, that Progress 8 scores tend to be associated with overall grades. All bar 4 of the schools to be judged outstanding on re-inspection achieved a Progress 8 score of 0.5 or higher.
Both Progress 8 and Ofsted judgments are imperfect measures of school quality. But whatever they are measuring appear to be related.
However, there is some overlap in Progress 8 scores between the groups, particularly those rated good and those rated RI (requires improvement).
Some schools had not been inspected for many years
Almost half (49%) of the schools went 14 years or more between inspections. They would have been previously inspected under a very different inspection framework and not been inspected under some of the intervening frameworks at all.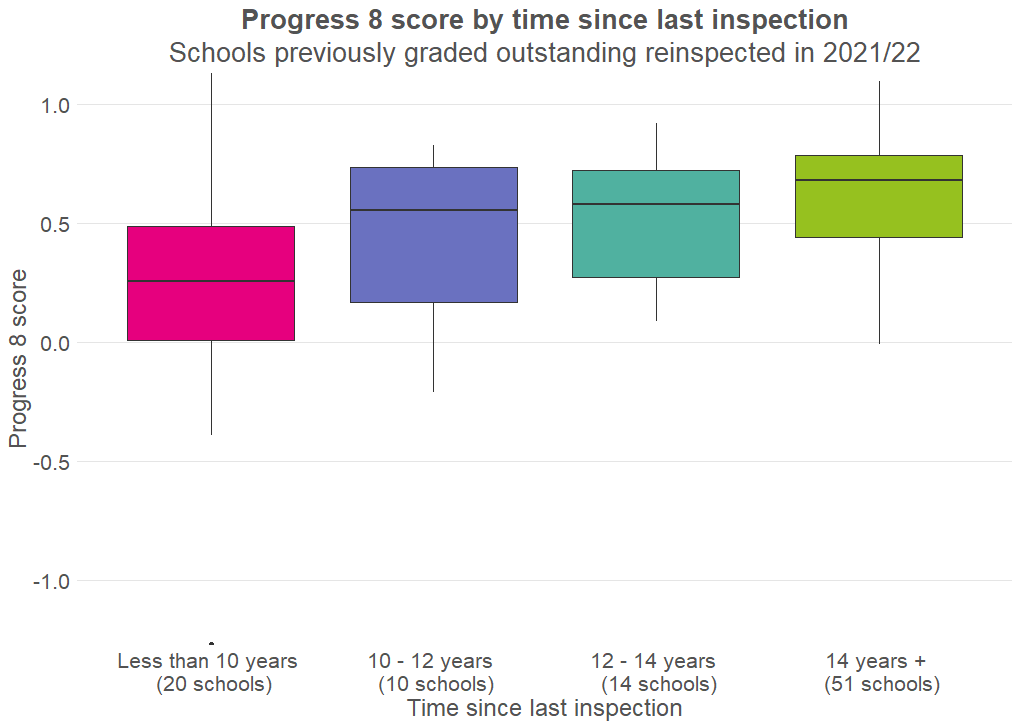 Schools that had not been re-inspected for a long time tended to achieve higher Progress 8 scores than other previously outstanding schools in 2022, particularly those judged outstanding when last inspected in the last ten years.
They were also more likely (35%) to remain outstanding than other schools.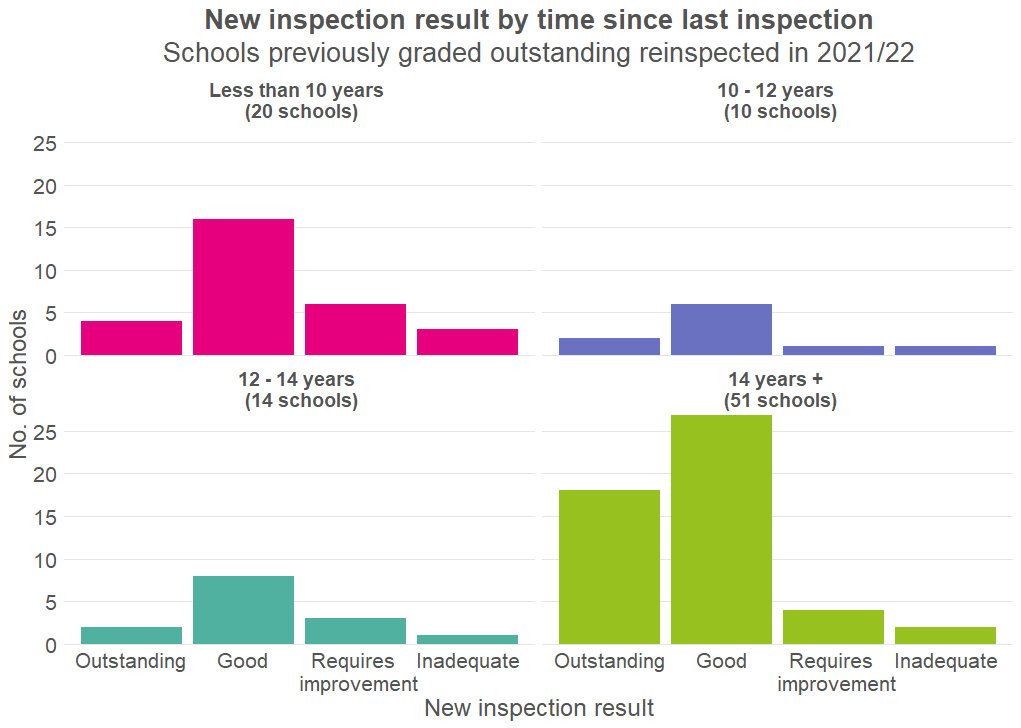 Grammar schools
Finally, let's look at previously outstanding selective (grammar) schools that were inspected in 2021/22.
On the chart below, we plot all 104 previously outstanding secondary schools inspected in 2021/22 based on their 2022 Progress 8 cohort and the mean KS2 scaled score in reading and writing of their 2022 Year 11 cohort.
The grammar schools are easy to spot on the chart – they all have a mean scaled score of 110 or higher. No other schools had such a high level of prior attainment.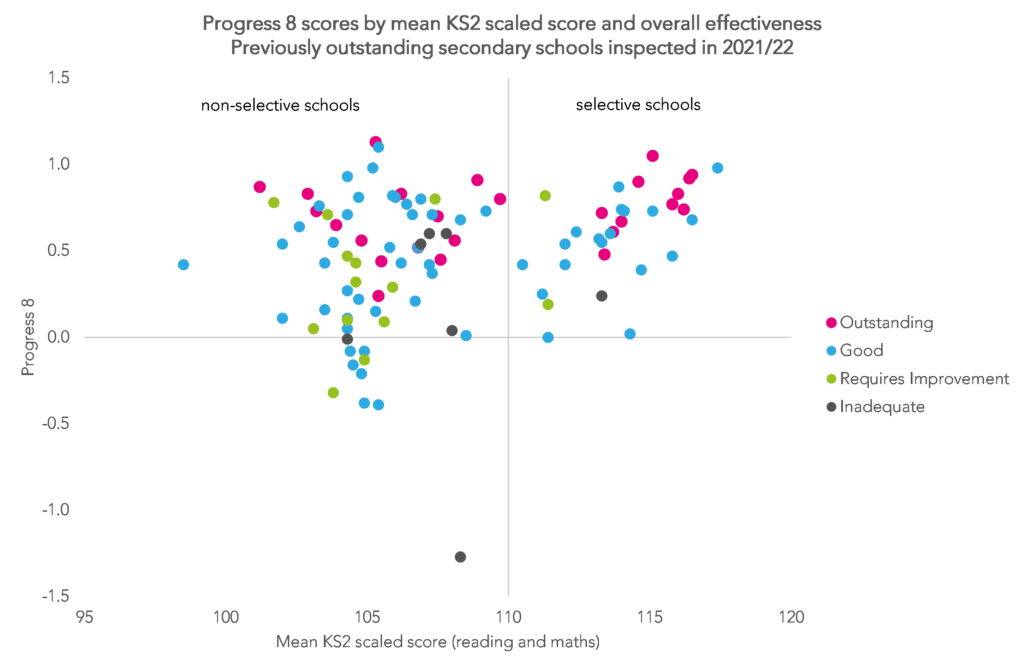 34 grammar schools were inspected. 35% remained outstanding compared to 20% of non-selective schools. Just 9% were RI or lower compared to 26% of non-selective schools.
But as the chart shows, there were some previously outstanding non-selective schools now judged RI despite achieving higher Progress 8 scores than previously outstanding grammar schools judged good (and even outstanding).
Leadership and management
So far we have only looked at overall outcomes.
However, we can also look at the other key judgments inspectors make.
Among the 21 previously outstanding schools judged RI or below overall, 19 were judged RI or below for leadership and management.
This appears to be the most critical judgment in determining the overall rating for these schools.
Summing up
It was perhaps to be expected that many previously outstanding schools would no longer be judged outstanding once the exemption from routine inspection was lifted.
For the most part, attainment data for 2022 appears to be related to judgments made by Ofsted in inspections of previously outstanding secondary schools in 2021/22. Certainly, the Progress 8 scores of schools rated inadequate and those rated outstanding appear substantively different.
However, there was substantial overlap in Progress 8 scores between those rated good and those rated RI.
Clearly, Progress 8 scores are at best imperfect measures of school quality. Given that Ofsted look at more than just pupil attainment, perhaps the overlap in Progress 8 scores is to be expected. Based on this analysis, for example, the judgment about leadership and management seems critical in determining whether a previously outstanding school is judged less than good when re-inspected.
Understanding how Ofsted distinguishes between "good" and "RI" matters because the government seems intent on intervening in schools that receive consecutive judgments of less than good.
Inspectors will have access to 2022 attainment data when inspecting schools this year. It will be interesting to see later in the year whether there is a sharper distinction in Progress 8 data for good and RI schools.
Want to stay up-to-date with the latest research from FFT Education Datalab? Sign up to Datalab's mailing list to get notifications about new blogposts, or to receive the team's half-termly newsletter.