Just before Christmas the Prime Minister no less announced a new "policy flavour" [1] that all students would continue to study maths to age 18.
Better minds than mine will have ideas whether this is a good idea (or not).
But we can at least look at some numbers.
These show that young people who achieve grades 4 to 6 in maths at GCSE tend not to enter qualifications in maths post-16.
Data
For this, we're going to go back to the cohort who entered GCSEs and other Key Stage 4 qualifications in 2019.
We link them up to their post-16 entries in qualifications both in the 2019/20 and 2020/21 academic years. These were entries given centre assessment grades and teacher assessed grades respectively. At this stage, there were no results for T-Levels in the data.
For each pupil, we calculate the highest grade they achieved in GCSE maths by the end of 2019[2]. We also include other qualifications considered equivalent including AS-Level.
How many young people enter a post-16 maths qualification?
The chart below shows the percentage of pupils who enter a post-16 qualification classified as maths or numeracy in either 2020 or 2021.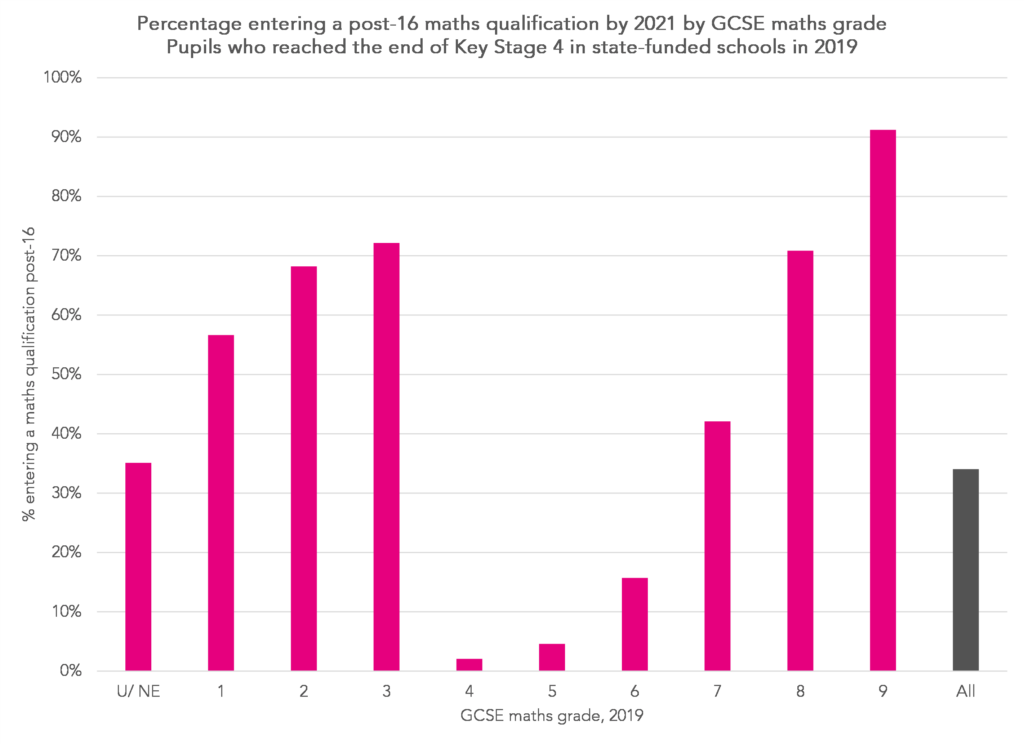 Overall, around 34% of pupils entered a post-16 maths qualification by 2021. The Prime Minister's speech suggested that around 50% of pupils studied maths 16-19. Those studying maths but not entering any qualifications may explain at least some of the difference.
Of course, there will be elements of maths (or numeracy) in other qualifications that pupils might take post-16.
Going back to the chart, there are two sides to the distribution.
On the left are pupils with lower GCSE grades (3 or below) who were obliged to resit maths qualifications, including GCSEs and functional skills, whether they wanted to or not.
On the right are pupils (mostly) taking A-Levels.
Fewer than 5% of pupils with a grade 4 or grade 5 and fewer than 20% of those with a grade 6 entered a maths qualification post-16.
But what the chart doesn't show is the number studying maths qualifications. There are far more pupils with grade 5 maths than grade 9, for example.
So in the chart below, we show, for each GCSE maths grade, the number entered and the number not entered for a maths qualification post-16.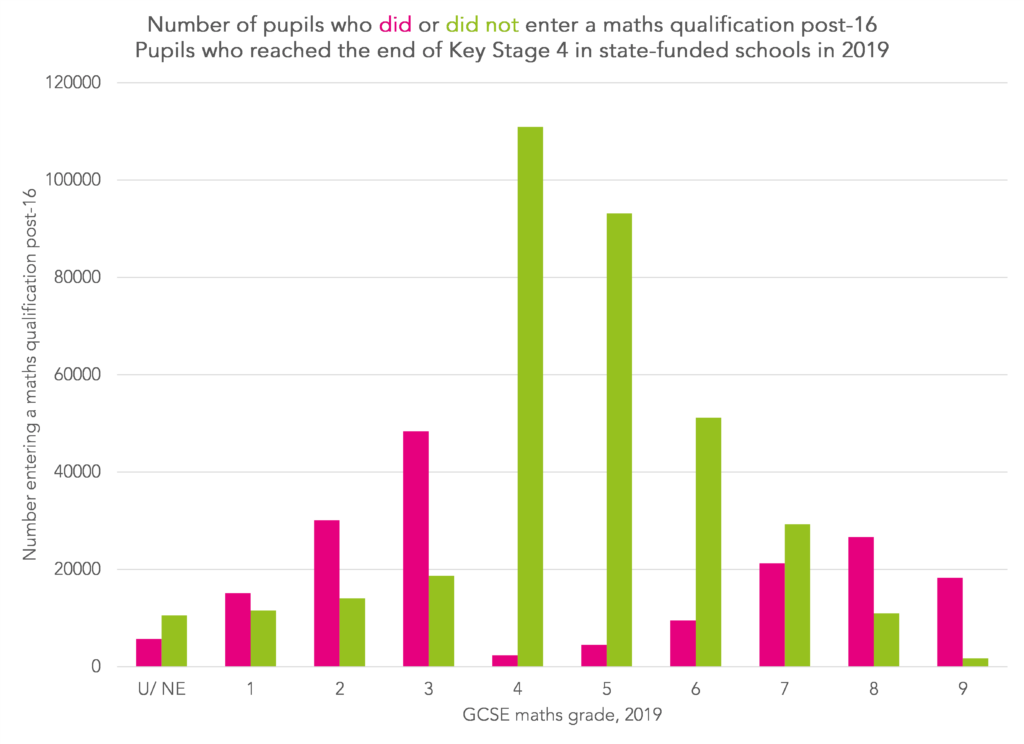 This shows that there were over 200 thousand pupils with grade 4 or 5 maths at GCSE who did not enter a maths qualification post-16. Conceivably there may be pent-up demand for a suitable post-16 maths qualification among this group.
Core maths
This was not the first time that the government had announced an ambition for more young people to continue studying maths up to age 18.
Michael Gove expressed similar sentiments in a speech made in 2011 when Secretary of State for Education.
One policy in response was the introduction of a new qualification, core maths.
Of the pupils in the cohort we looked at who entered a post-16 maths qualification with a grade 4 or 5 at GCSE, over half entered core maths.
It was designed to focus on problem solving and to sit alongside main Level 3 programmes (e.g. A-Levels and BTEC). However, as this Nuffield-funded research shows, take up has been low. The authors attribute this to a combination of factors including a perceived lack of value from the HE sector and issues arising from fitting it into existing funding frameworks designed around main programmes.
Among our cohort, there were just over 10 thousand entries in core maths by the end of 2021, fewer than 2% of the total cohort.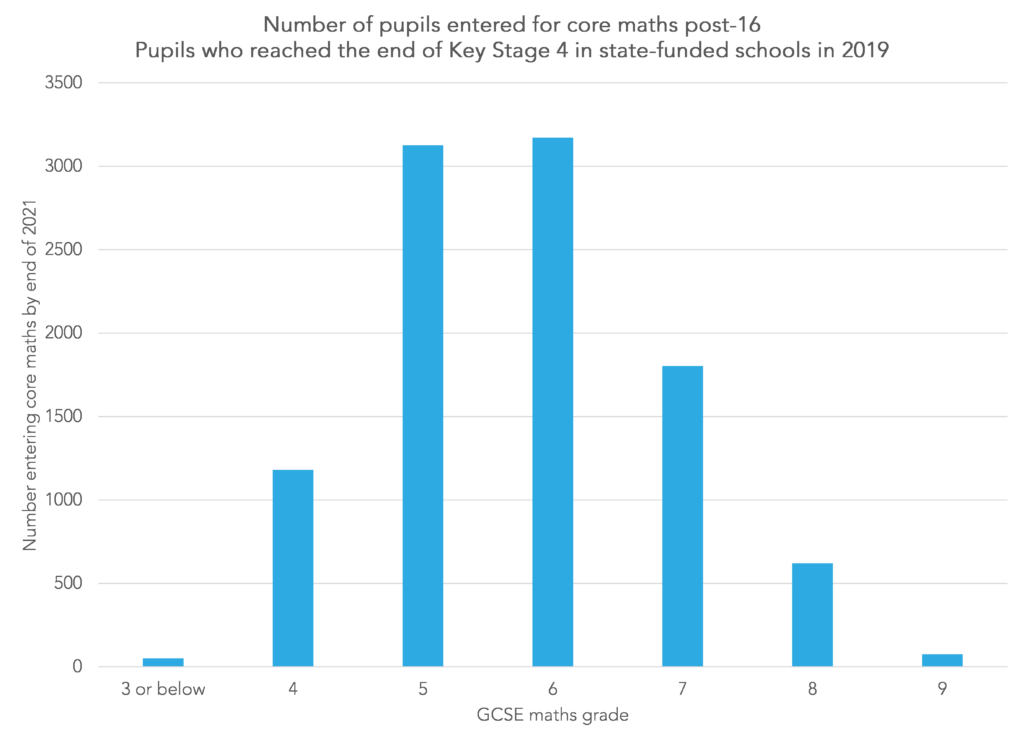 This shows that over 60% of entrants in core maths had achieved grade 5 or 6 at GCSE.
Types of qualification entered
Leaving maths aside for the moment, let's look at the types of Level 3 (A-Level and equivalent) qualifications taking by pupils with grade 4 or 5 in maths at GCSE.
To do this, we classify level 3 qualifications into three groups:
Academic (A-Levels, pre-U and International Baccalaureate)
Applied General (mostly BTEC and OCR nationals)
Technical (everything else)
Note that we only include Level 3 qualifications of the same size as an A-Level (or larger). This means that we do not include other (smaller) qualifications like AS-Levels, core maths and free-standing maths.
The chart below provides a breakdown of the types of level 3 qualifications entered by pupils in our cohort in 2021[3].
Among pupils with grade 7 or above in maths at GCSE, academic qualifications dominate.
Some of those with grade 4 or grade 5 in maths also took academic qualifications. Perhaps they achieved higher grades in other subjects and so pursued other options.
But a wide range of routes can be observed among those with grade 4 or grade 5. Applied general and mixed (A-Levels alongside applied general or technical qualifications) routes are common. In addition, there are relatively large numbers who did not enter any Level 3 qualifications in 2021. This might include some who subsequently completed Level 3 qualifications in 2022 having taken an additional year of Level 2 study or changed courses after Year 12.
Summing up
Relatively few pupils who achieve grades 4 to 6 in GCSE maths go on to enter qualifications in maths post-16.
This is the group for which either GCSE resits or A-levels in maths are most likely to be inappropriate.
However, if we want to increase the numbers of young people studying maths post-16 then it will be from this group that most growth will need to be achieved.
This may mean making qualifications other than GCSE or A-Level more widely available or building maths into existing post-16 study programmes.
Notes
Pearson, S. (2007), The Thick of It, London
This is different to the rules governing School Performance Tables which only counts first entries
The academic group consists of pupils who entered 3 or more A-levels, none of the pupils in the applied general or technical groups entered any A-levels, the mixed group consists of pupils who entered qualifications equivalent to 3 or more A-levels across two or more of the qualification groups, the other L3 group consists of pupils who entered level 3 qualifications equivalent to fewer than 3 A-levels.
Want to stay up-to-date with the latest research from FFT Education Datalab? Sign up to Datalab's mailing list to get notifications about new blogposts, or to receive the team's half-termly newsletter.