A few months ago I wrote a piece about the size of MATs. Following that post, a reader got in touch asking how many special schools are now part of a MAT.
And I thought that was such a good question that it needed a whole new post to answer it properly.
I'll be delving into the latest public data from the government's Get Information about Schools site, as well as looking back at trends over the last five years.
Some background
Before we start to look at MATs, let's take a quick look at the number of special schools overall. In the most recent published data[1], there are 1,742 special schools in total.

We'll be focusing on the state-funded schools in this post. And the number of state-funded special schools has been increasing slightly over the last few years.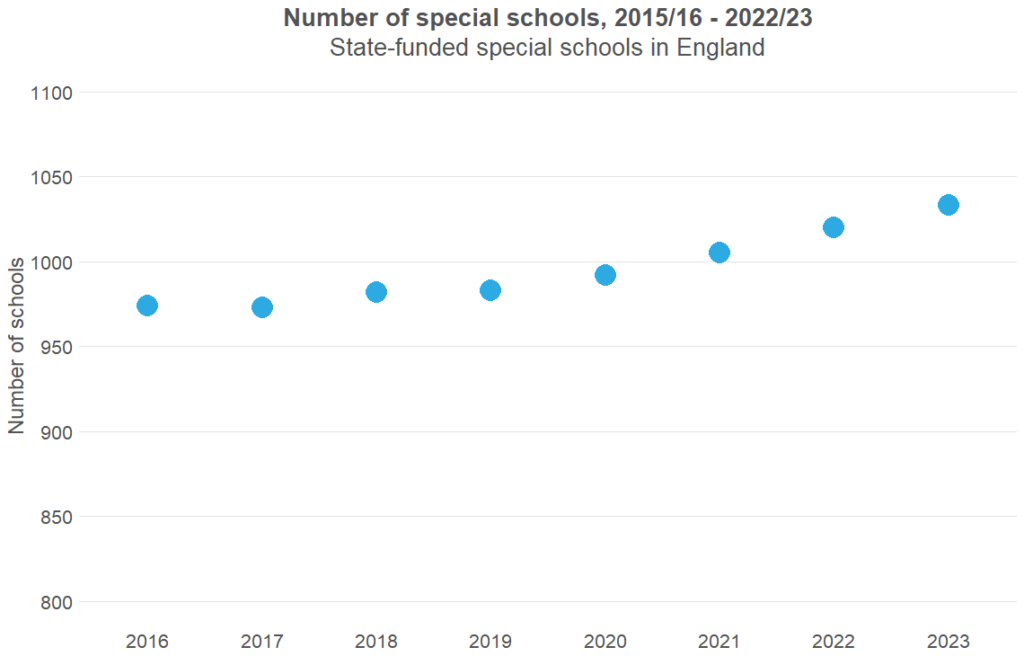 But the headcount of pupils in special schools has also been increasing. DfE data on headcount for the current academic year isn't yet available, but in 2021/22 there were 142,028 pupils in state-funded special schools, compared to 105,363 in 2015/16.
In 2016, there were 108 pupils for each school; in 2022, there were 139.
Some regions – particularly the North East and London – have a higher proportion of special schools than others, while Yorkshire and the South West have a particularly low proportion.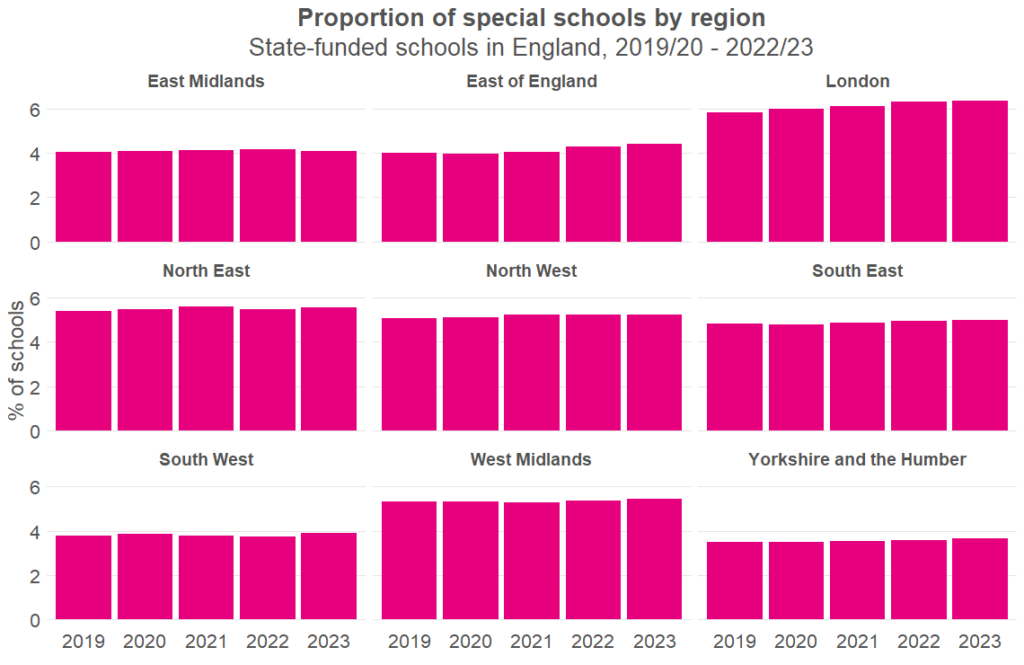 But in all regions the proportion has remained similar over the last few years.
Special schools are far more likely than mainstream schools to teach pupils of both primary and secondary age. The majority (58.3%) of special schools include both pupils below the age of 11 and above the age of 13. In comparison, less than 1% of mainstream schools are defined as all-through schools.[2]
This is interesting as we've shown previously that phase of education makes a difference in how likely schools are to be part of a MAT: primary schools are less likely to be part of a MAT than secondary schools.
Special schools and academisation
If we look back five years to 2018/19, special schools were less likely to be academies than mainstream schools: 32.8% of special schools were academies compared to 38.4% of mainstream schools.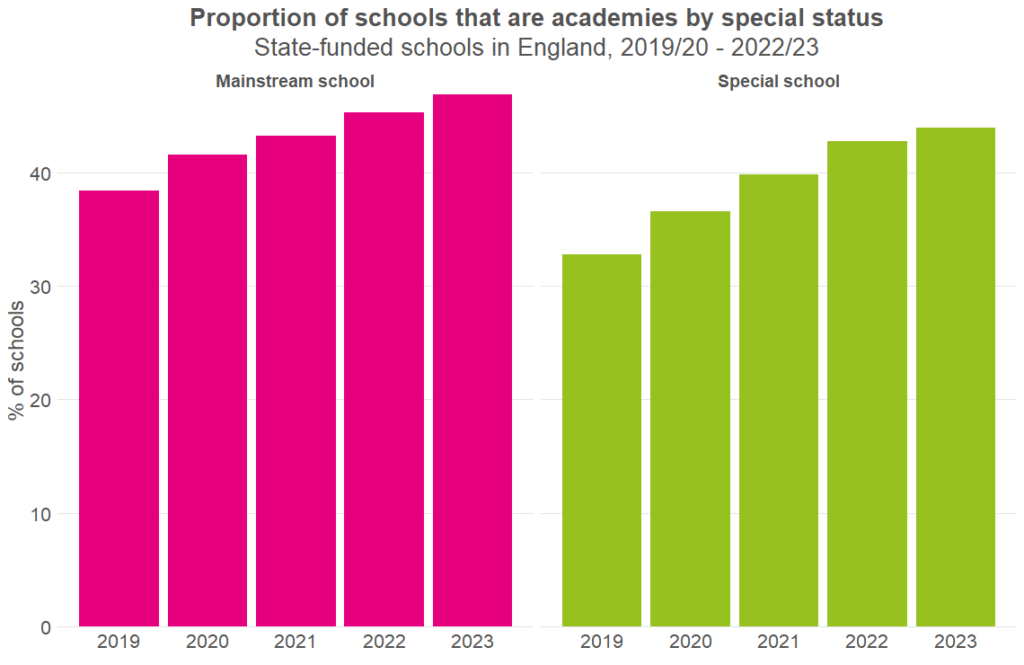 This year, the difference is somewhat smaller: 46.9% of mainstream schools are currently academies, compared to 43.9% of special schools.  And while the proportion of mainstream schools that are academies has been increasing sharply in recent years, the proportion of special schools that are academies has increased even more sharply.
But, of course, not all academies are part of a MAT; some are single academy trusts (SATs). Currently, 41.1% of mainstream schools are part of a MAT compared to 38.4% of special schools.
Let's break down the figures by size of trust.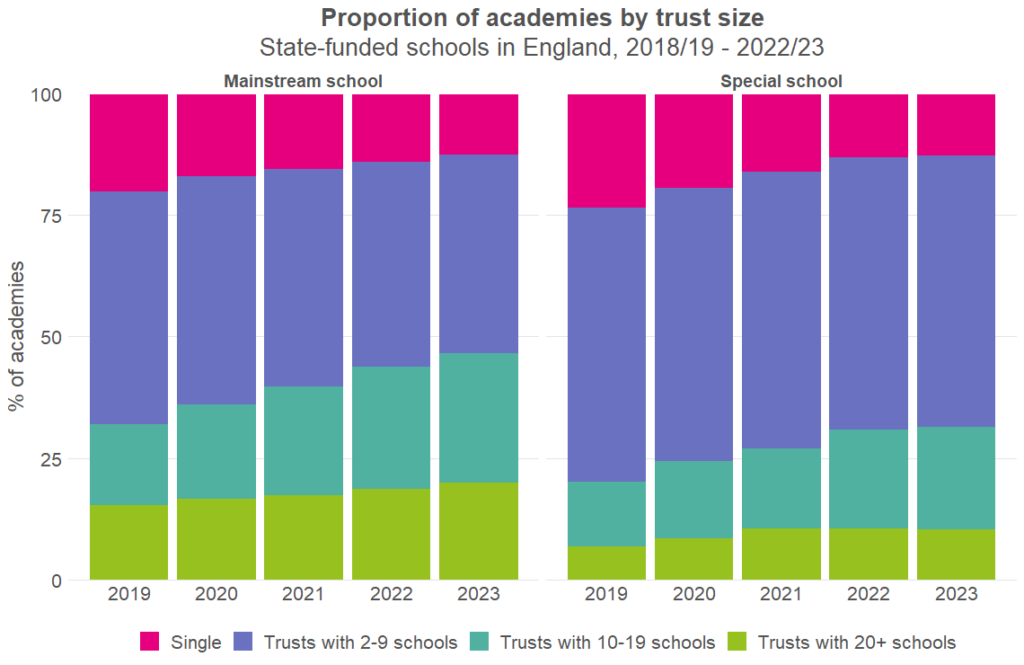 As we've said before, there's been a trend in recent years for schools to join larger MATs. Back in 2018/19, 67.1% of mainstream academies were in either a single academy trust (SAT) or a MAT with less than ten schools. This year, that figure stands at 52.3%.
For special academies, there has also been a move away from smaller trusts: in 2018/19, 81.1% were part of a SAT or small MAT, but in 2022, the figure was 68.3%.
But special academies remain more likely to be part of a SAT or small MAT than mainstream academies.
MATs that include special schools
We'll now look at the characteristics of those MATs that include one or more special schools. So from now on we'll only be looking at trusts with two or more schools.
Relatively few MATs include any special schools. There are currently just under 1,200 MATs and just 157 (13.3%) include one or more special schools. But, as we saw earlier, special schools only make up around 5% of all schools.
We will need to bear in mind when looking at the following figures that they're based on a fairly small number of MATs. And it's actually worth breaking them down still further.
The table below shows MATs broken down by composition and regional spread. As well as looking at whether MATs include special schools, we've also looked at whether they include providers of alternative provision.

Almost all of the MATs that do not include any mainstream schools are small, with less than 10 schools, and include schools from just one region. There aren't currently any large MATs with more than 20 schools that do not include any mainstream schools.
On the other hand, MATs that include a mixture of special schools, mainstream schools and / or providers of alternative provision tend to be larger and are more likely to be spread across more than one region than other MATs.
You might suspect that the fact that these MATs are more spread out geographically is just a consequence on them being larger.  But even among large MATs with twenty or more schools, those that include both special and / alternative provision as well as mainstream schools are more likely to cover more than one region.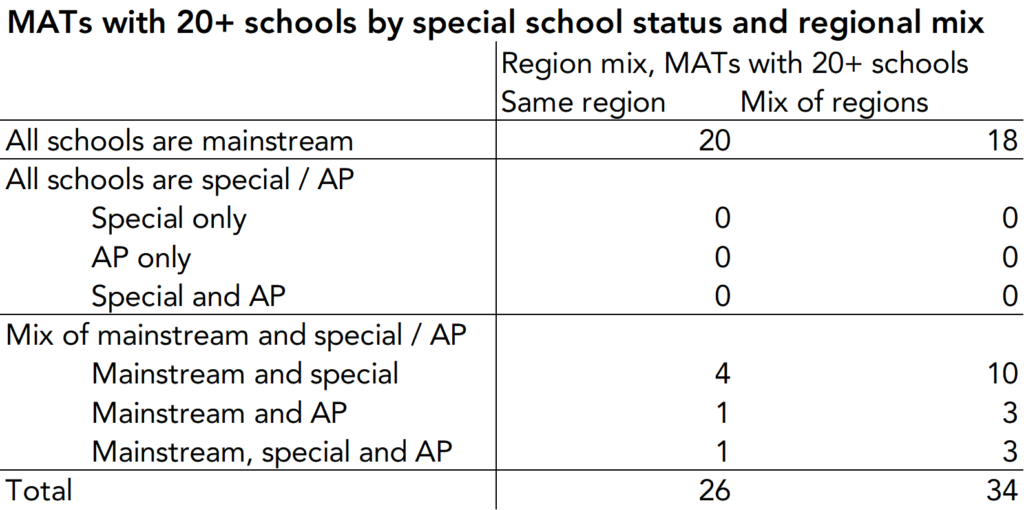 Some speculation
So what's next for special schools and MATs?
Several governments ago, as part of the Schools White Paper, an expectation was set that in future all schools will join MATs, and that MATs will include 10 or more schools.
For that to happen, we'll need to see considerable changes. We will likely see some of the large MATs that currently include a mix of special and mainstream schools expand further.
We might also see large MATs that don't currently include any special schools extend their remit to bring some in. And perhaps some of the smaller MATs that don't currently include any mainstream schools banding together or expanding to form large special MATs.
Another pressing issue facing special schools and their MATs is capacity.
A few years ago, we wrote a piece predicting a shortage of special school places. And more recently, we showed that a lot of young people with EHCPs are being placed outside the state-funded school system – perhaps in part because of a lack of spaces in special schools.
It will be interesting to see if MATs will be able to do anything to increase capacity or otherwise manage the situation.
One thing's for sure: MATs looking to bring in these changes and address the issues facing special schools will need plenty of support.
Notes
[1]: Taken from Get Information about Schools on 7 October 2022.
[2]: 'Mainstream schools' excludes pupil referral units and providers of alternative provision.