The publication last week of GCSE and A-Level results following the return of exams shone the spotlight again on the grades awarded by independent schools during the pandemic when grades were awarded by schools.
We had previously expressed doubts about the GCSE grades awarded by independent schools in 2020 and 2021 as you can read here and here.
In our roundup of this year's A-Level results, we (and lots of other commentators) noted the sharp fall in entries graded A*-A in independent schools following the sharp rises in 2020 and 2021.
But in a guest post, John Jerrim wisely sounded a note of caution about reading too much into absolute changes in percentages.
He argued that we should also examine relative changes in attainment. In other words, how many times more likely were students to receive A*-A grades in 2021 than in 2019 (or 2022)? This showed a much larger increase in FE colleges than in independent schools.
Most analysis involving 2022 A-Level results by centre type uses some very useful but limited data published by Ofqual as its source. And based on this alone we shouldn't rush into drawing conclusions.
But using a bit more data, I'm not convinced that relative changes are very helpful when thinking about the increase in results between 2019 and 2021 for independent schools.
Grading Standards in 2019
One argument I've heard [1] put forward for the much larger absolute increase in A*-A grades in independent schools was that their students would have been more likely to be clustered below the grade A boundary. Consequently, they would have disproportionately benefited from an approach to grading that gave benefit of the doubt to those close to the boundary.
So to test this I'm going to use data on grades awarded in schools and colleges published by the Department for Education (DfE) in the post-16 performance tables.
One or two caveats [2] notwithstanding (plus concerns over the reliability of exam grading noted), the chart below shows the percentage of A-levels (in all subjects) awarded grades A*-A and grade B in 2019.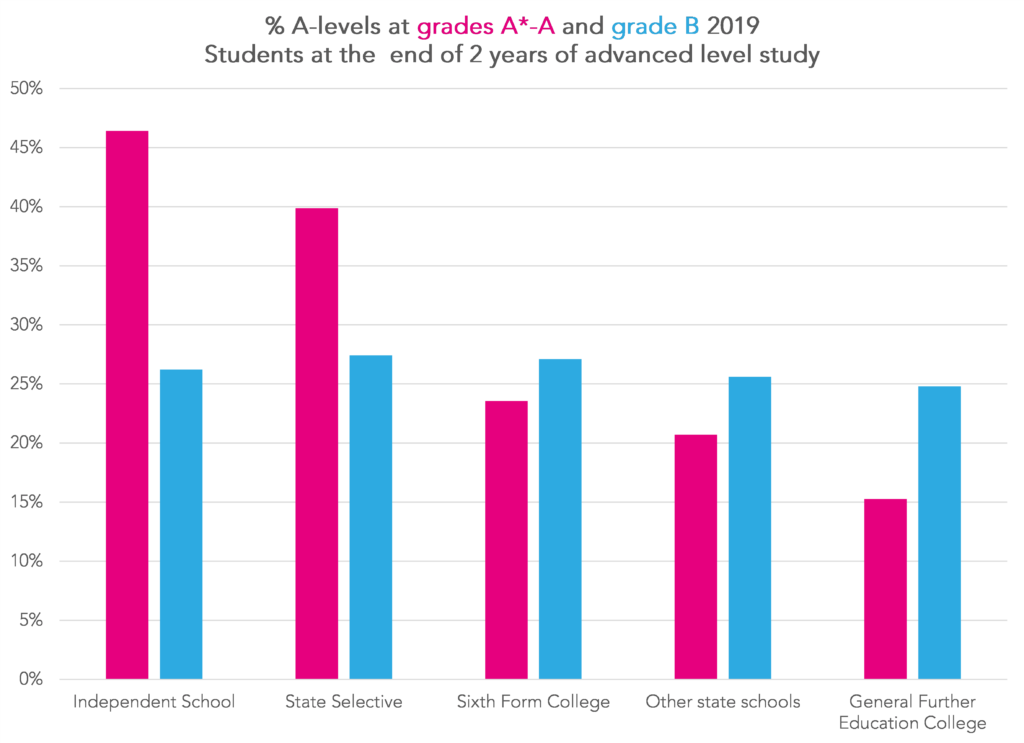 If we compared the A*-A bars to the A*-A data for 2019 published by Ofqual, then according to the DfE data, 46% of entries at independent schools in 2019 achieved grades A*-A. This compares to 45% in the Ofqual data.
Among state-funded selective schools, the difference in A*-A grades in 2019 in the DfE (39%) and Ofqual data (36%) were larger. This is likely to be due to Ofqual only including a subset of 76 selective schools in their analysis [3].
Leaving that to one side, the A*-A bars in the chart show large differences in attainment between different types of centre pre-pandemic.
But what I'm more interested is the blue bars – the percentage of entries awarded grade B. The differences between centre types are much smaller.
If we had the underlying mark data we might see that students in independent schools are disproportionately located in the upper end of the grade B distribution.
A thought experiment
In 2019, 46% of students at independent schools achieved grades A*-A and 26% achieved grade B. 72% achieved grades A*-B.
According to the Ofqual data, 70% were awarded grade A*-A in 2021, a 24 percentage point increase on 2019.
So let's imagine there hadn't been a pandemic. Education carried on as normal during 2020 and 2021 and exams took place.
What would attainment in independent schools have looked like then?
The chances are that the percentage of entries awarded A*-A grades would have been pretty similar to two years earlier. If we consult the Ofqual data again, we see that 46% of entries were awarded grade A*-A in 2017 compared to 45% in 2019.
The results for 2021 therefore suggest that the vast majority of those in independent schools who would have been awarded grade B if exams had gone ahead in 2021 were awarded grade A*-A.
If in 2021 the A*-A standard was equivalent to the A*-B then attainment at FE colleges would have increased by 25 percentage points from 15% to 40%. In practice, the Ofqual data shows a more modest rise of 16.5 percentage points between 2019 and 2021.
In terms of relative changes, awarding A*-A to all those awarded A*-B in 2019 would have resulted in a relative increase of 162% in FE Colleges and 56% in independent schools.
In other words, the smaller relative change for independent schools compared to FE Colleges seems reasonable. The larger absolute change (24 percentage points compared to 16.5) doesn't.
The grades awarded by independent schools in 2021 were unfair
It's worth remembering that in 2021 each school and college awarded grades using common guidance but were able to determine for themselves what evidence to include in their grading decisions.
Some allowance was made for differential learning disruption. Students would only be assessed on the content they had covered.
But, as the Ofqual report into grading in 2021 made clear, "it was not intended to tackle differential engagement with education, such as different home learning environments and different abilities to adapt to home or independent learning, and therefore the assessment arrangements this year did not fully address the impact of differential learning loss."
So if independent schools had tended not to suffer as much disruption as state schools and colleges then maybe it is entirely possible that their students really did benefit and produced a higher standard of work without anyone gaming the system. After all, Ofqual undertook quality assurance and found nothing wrong.
But however the 2021 results came about, it still seems unfair that they increased (or were allowed to increase) by such a large margin in independent schools.
Notes
See for example the penultimate paragraph on page 13 of the Ofqual report into summer 2021 awarding
The DfE data includes changes to appeals but only includes students at the end of 2 years of advanced level study in schools and colleges in England. Results are suppressed where there are 5 or fewer entrants in a given subject at a school or college.
Rather than the total of 160+ due to using the National Centre Number register to classify centres rather than the DfE Get Information About Schools
Want to stay up-to-date with the latest research from FFT Education Datalab? Sign up to Datalab's mailing list to get notifications about new blogposts, or to receive the team's half-termly newsletter.