https://code.highcharts.com/6/js/highcharts.jshttps://code.highcharts.com/6/modules/exporting.jshttps://code.highcharts.com/6/modules/series-label.jshttps://code.highcharts.com/6/modules/export-data.jshttps://code.highcharts.com/6/modules/broken-axis.jshttps://cdn.jsdelivr.net/npm/lodash@4.17.11/lodash.min.js/wp-content/highcharts/highcharts_options.js/wp-content/highcharts/2022_alevelresults/chart_subjectgrade.js?v=6
@import "/wp-content/charts.css";@import "/wp-content/highcharts/highcharts_seriescolours.css";@import "/wp-content/highcharts/highcharts_style.css";@import "/wp-content/highcharts/2102_subjectcombo/mobile.css";
A chart or charts in this post require JavaScript, which is turned off in your browser.
Today sees the release of the first set of A level results awarded by public examination since before the start of the pandemic. Both JCQ and Ofqual have produced high-level national statistics summarising attainment overall and in different subjects.
In this post, we pick out some key highlights from the published statistics. More thorough analysis will emerge as more data becomes available.
Grades have started to be brought in line with those from 2019
Ofqual planned to start to bring grades more in line with those from 2019, the last time exams were sat. Unsurprisingly, this is exactly what has happened.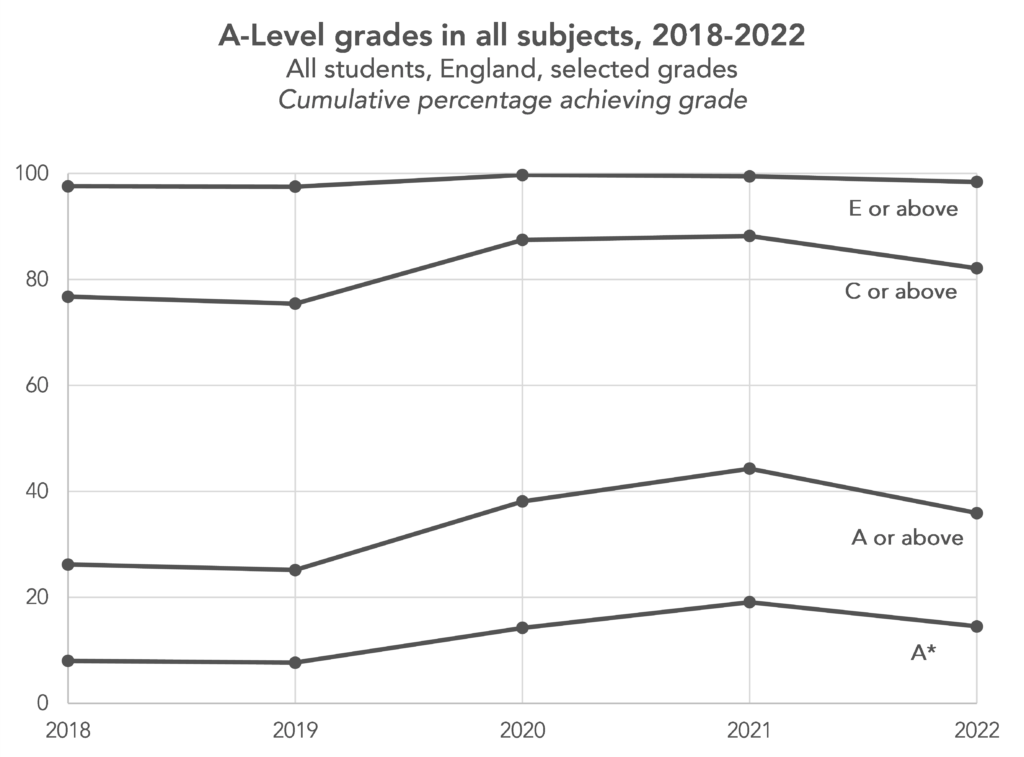 In almost all subjects, A*-A awards are above the midpoint between 2019 and 2021
In almost all cases, the percentage of entries graded A*-A in 2022 is above the midpoint of the percentages for 2019 and 2021. Exceptions were biology, chemistry and maths but these were only very slightly lower than the midpoint.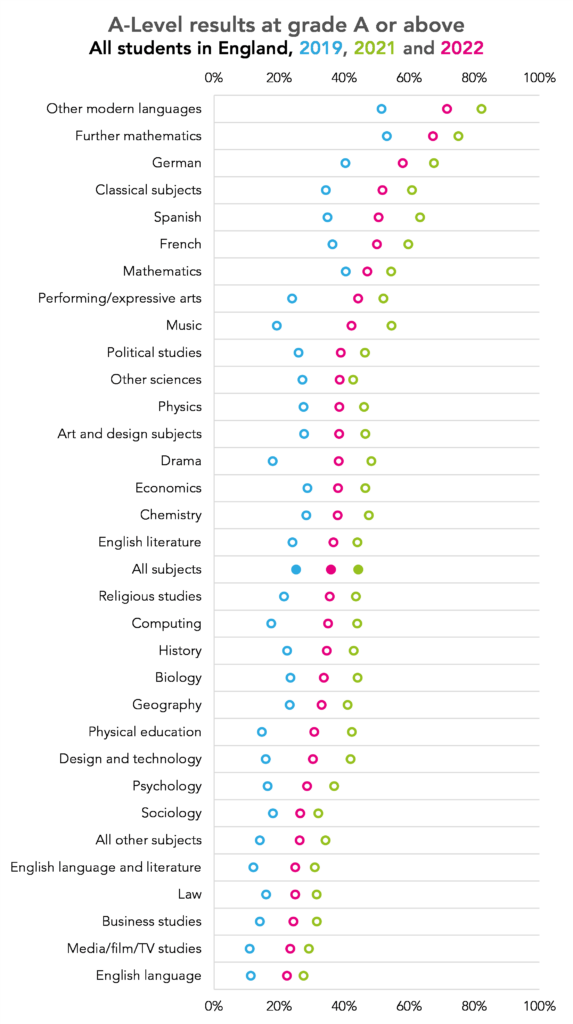 As a result, the percentage of entries graded A*-A in some subjects in 2022 remains far higher than in 2019. This includes subjects with small numbers of entries such as music and performing arts. We might expect subjects with smaller numbers of entrants to be more susceptible to changes in the prior attainment profile of students from year to year.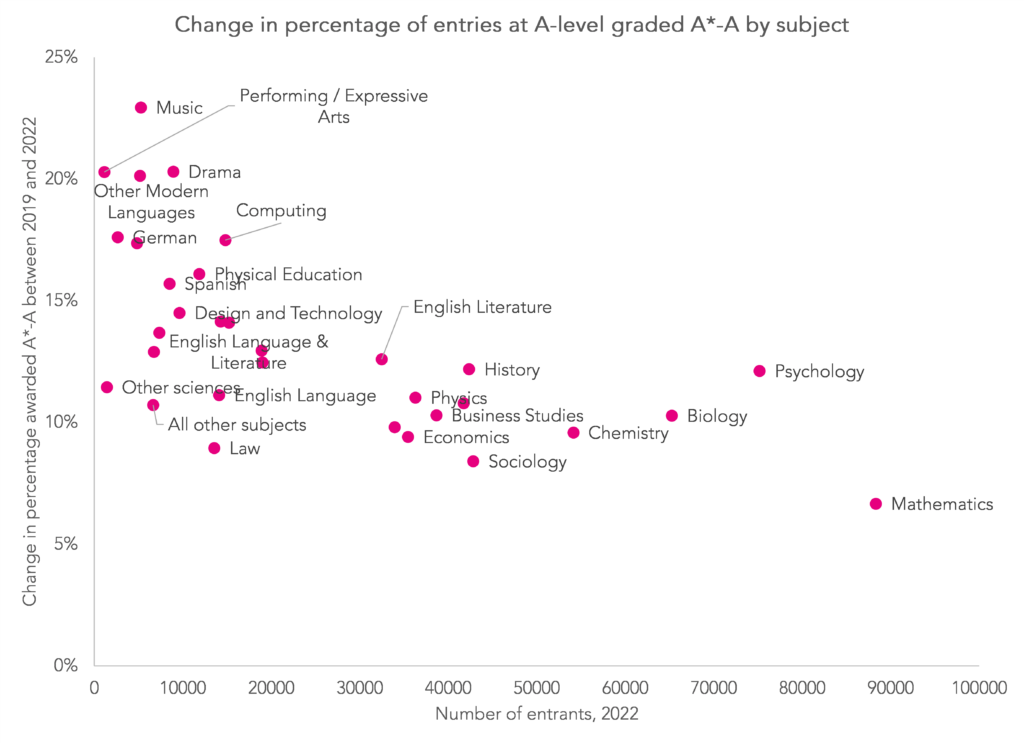 However, this might mean that these students taking these subjects next year might face tougher grading than those years if Ofqual continues with its plan to bring 2023 grades in line with 2019.
The chart below allows you to explore how the grade distribution has changed from 2019 – 2022 for all of the subjects for which data is available.
All subjectsArt and design subjectsBiologyBusiness studiesChemistryClassical subjectsComputingDesign and technologyDramaEconomicsEnglish languageEnglish language and literatureEnglish literatureFrenchFurther mathematicsGeographyGermanHistoryLawMathematicsMedia/film/TV studiesMusicPhysical educationPhysicsPolitical studiesPsychologyReligious studiesSociologySpanishOther modern languagesOther sciences
Entry numbers have increased, but not in every subject
Entry numbers are up overall, from just over 750,000 last year to nearly 780,000, but some subjects have seen their entry numbers fall.
This includes several STEM subjects, in which entries have been on the increase over the last few years: entries in physics, chemistry, maths, further maths and other science subjects are all down. But entries in biology and computing have increased.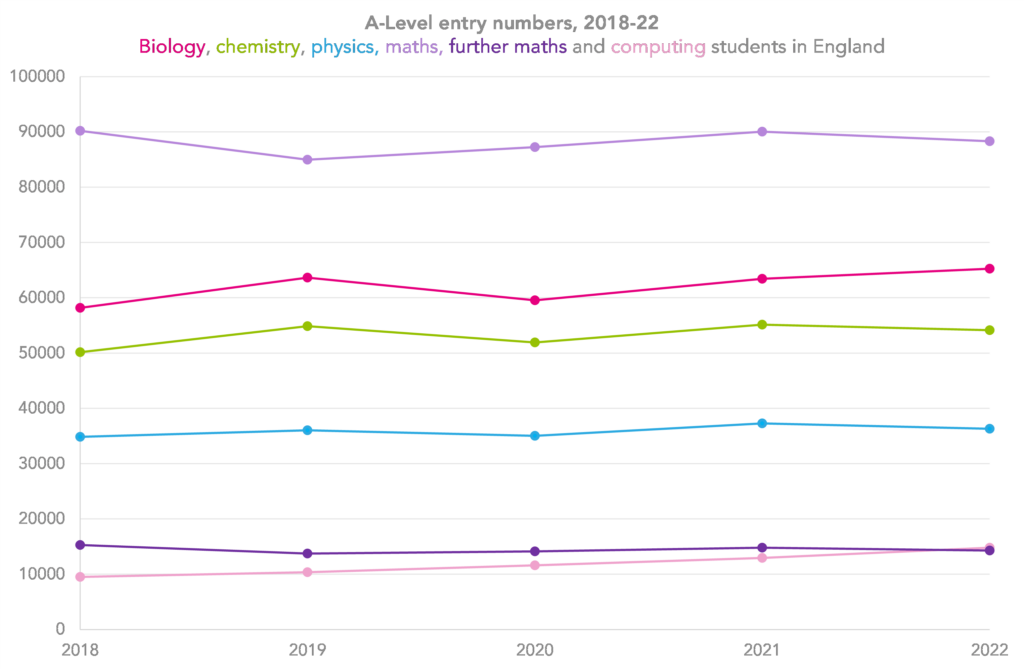 Entries to English, including English literature, English language and English literature and language are all down. English literature, which last year was the tenth most popular A-Level subject, has this year lost its place in the top ten.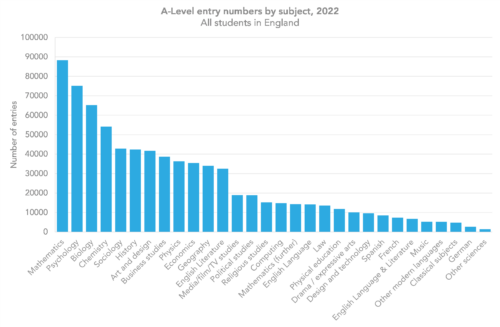 Other subjects that have seen falls in entries include religious studies and French.
Meanwhile, some subjects have seen particularly sharp increases, including geography, which also had a sharp increase last year, art and design and psychology.
You can explore the trends in entries from 2001 right up until this year in more detail here.
The gap between independent schools and state selective schools has begun to return to pre-pandemic levels
The arrangements for awarding GCSEs and A levels in 2020 and 2021 saw the gap in attainment between independent schools and state schools widen as we've written about previously  (see here and here).
The return to exams has seen this gap close. The difference in entries graded A*-A between independent schools and state selective schools has returned to around 8 percentage points having reached almost 14 percentage points in 2021.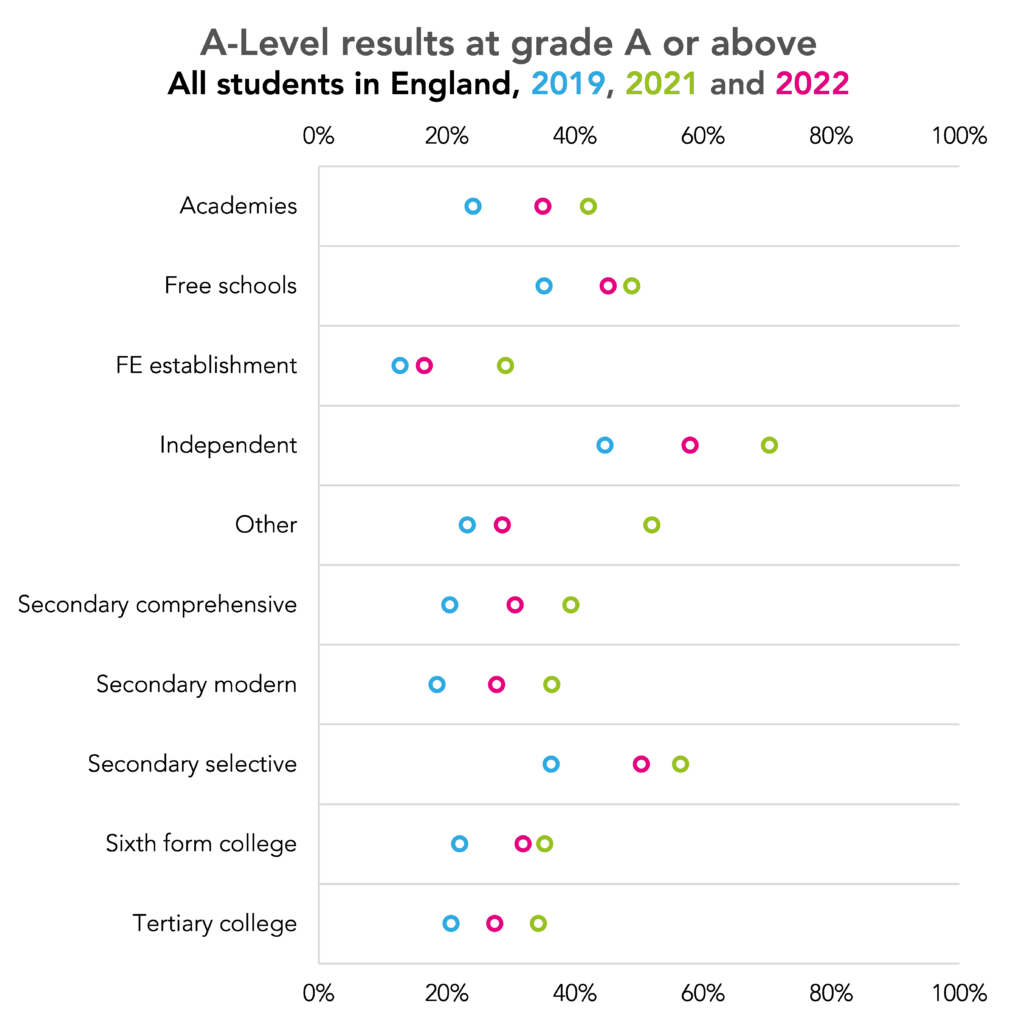 That said, Ofqual only appear to have counted 76 secondary selective schools in their figures. There are 143 wholly selective schools in England, which suggests that the remainder have been classified as academies.
But a gender gap remains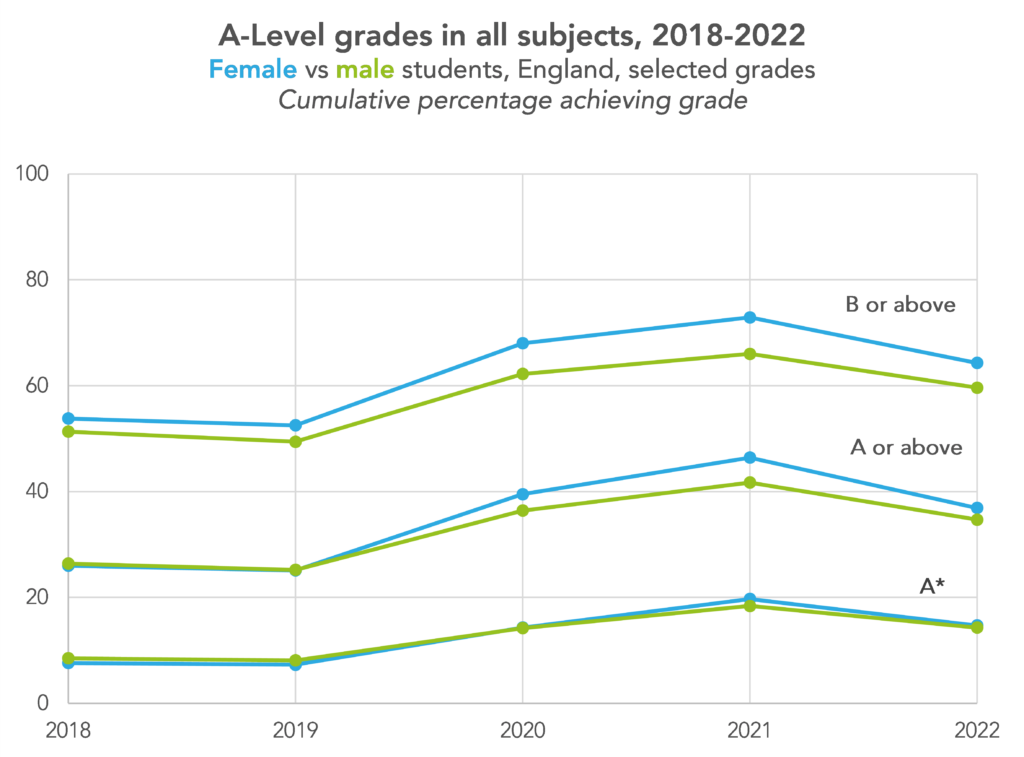 In 2018 and 2019, male and female students tended to achieve around the same percentage of A*-A grades. Female students have long tended to achieve a higher percentage of A*-B grades. And male students tended to achieve more A* grades.
In 2020 and 2021, female students achieved more A*-A grades than male students, and increased the gap at A*-B. They also achieved more A* grades. With the return of exams, we might have expected these gaps to close. But they haven't (although they have narrowed since last year).
Has COVID-19 widened existing differences between regions?
The percentage of grades awarded A*-A increased by a greater margin in London than any other region between 2019 and 2022 as shown in a visualisation produced by Ofqual.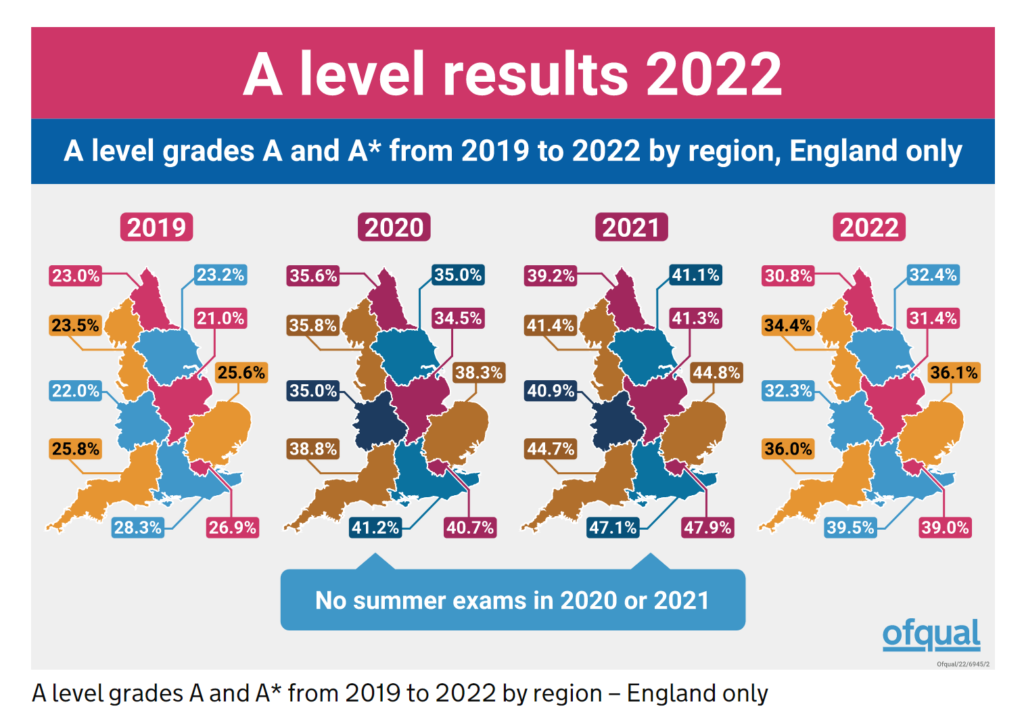 Source: Ofqual
This does raise the question – which we're unable to answer at the moment – about whether some regions have been disproportionately affected by COVID-19 over the last three academic years. Our analysis of attendance data for Year 11 pupils has shown that attendance in London has tended to be higher than in other regions for the majority of the pandemic so far.
Want to stay up-to-date with the latest research from FFT Education Datalab? Sign up to Datalab's mailing list to get notifications about new blogposts, or to receive the team's half-termly newsletter.